Innovative Build-A-Box Sheeting Guide Frame for shoring cross-trench utility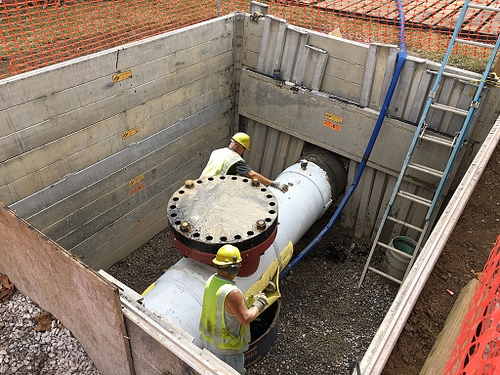 Efficiency Production—America's Trench Box Builder—is proud to unveil its latest accessory to its Build-A-Box modular trench shielding system.  The new Build-A-Box Sheeting Guide Frame utilizes lightweight corrugated sheets of aluminum to shore closely around existing cross-trench utilities. The sheets can be installed by hand, and the guide frame panel integrates seamlessly into any Build-A-Box configured system.  The result is a safe, maintained trench or pit that allows workers to access existing utilities.
Since 1989, Efficiency Production's Build-A-Box™ has been the industry's standard modular aluminum trench shield system.  Build-A-Box™ can be assembled in minutes to a wide variety of two, three, or four-sided configurations. This flexibility enables work crews to make on-the-spot design changes to meet job requirements in conditions ranging from light to extreme. Most systems are easily transported in a pick-up truck or trailer for quick application.  Build-A-Box™ is also compatible with XLAP™ Aluminum Shields.  It has the greatest strength to weight ratio in the industry.