Efficiency Production's Pipe Puller offers Laser-Friendly Pipe Installation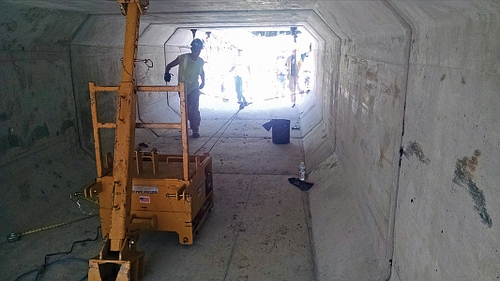 Efficiency Production manufactured pipe puller
Efficiency Production's Laser-Friendly Pipe Puller offers many advantages, including:
CONVENIENCE. The Pipe Puller remains stationary in the "first" pipe until the cables are extended to their full length of 100 ft. This saves the time and energy of moving the pipe puller each time a new pipe is laid.
FLEXIBILITY. Excavator can dig ahead while the Pipe Puller firmly joins several pipe sections, which minimizes grouting.
SAFETY. Efficiency's Pipe Puller minimizes pipe breakage with a more secure method of joining pipe sections.
EASY, ONE-PERSON OPERATION. The Pipe Puller's 32 ft. control cable allows for operation from a safe distance outside the pipe. Includes a 15,000 lbs. winch. Add additional snatchblock for greater capacity.