Efficiency Production hosts Twelfth annual Municipal Safety Day for Michigan DPW personnel
Posted: Monday, June 30, 2019 | By: James McRay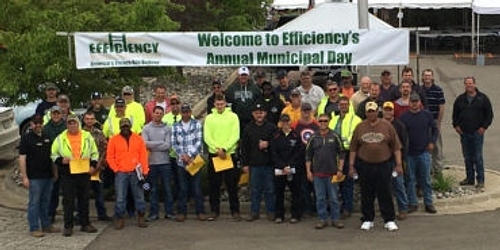 The 2019 Municipal Safety Day brought in 56 participants from 23 Michigan municipal communities and organizations.
Efficiency Production's Ron Wey (foreground) details the proper installation technique of vertical hydraulic shores.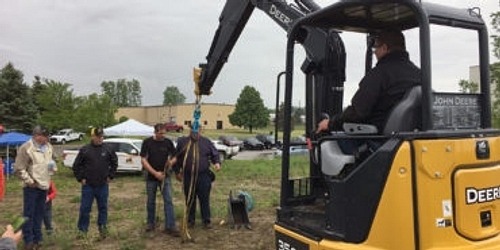 F.D. Lake's Brian Finakbeines (center, holding strap) and AIS Construction Equipment's Jeff Ely (second from left) work as a team to demonstrate proper rigging and safe operation of a mini-excavator.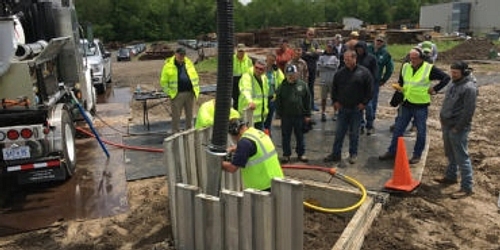 The aluminum sheets of an Efficiency Production manufactured Build-A-Box Sheeting Guide Frame is vacuumed into place by Doheny Companies' new dry-vac truck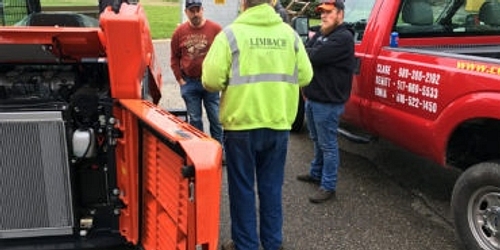 Ten local municipal equipment and services vendors, including Capital Equipment, showed off their products and equipment to Municipal Safety Day participants.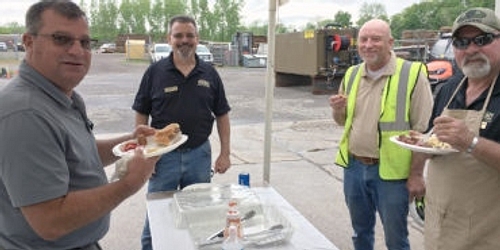 Efficiency Production's Sales Staff (right to left); Tim Hurst, Jim Hamilton, Ron Wey, and Rod Austin were responsible for the delicious burgers and brats featured in the free grille-out lunch at Efficiency Production's Municipal Safety Day.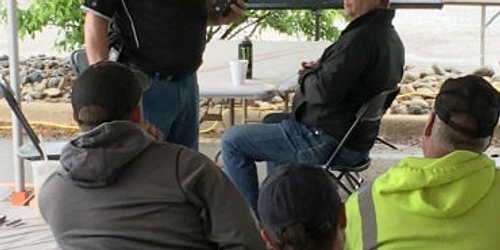 Doheny Companies' Ed Fitzgerald explains how to use a gas monitor to stay in compliance with MIOSHA's Confined Spaces standards.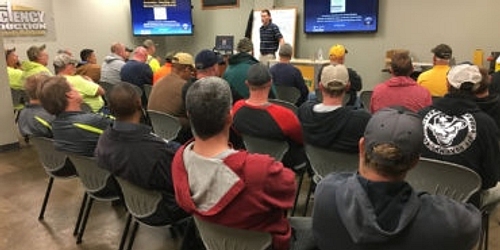 Tom Hansen (standing) from MIOSHA's Training Division explains how MIOSHA personnel enforce trench safety requirements.
Efficiency Production hosts Twelfth annual Municipal Safety Day for Michigan DPW personnel
This past May 30, 2019, Efficiency Production hosted Municipal Safety Day for Michigan communities' Departments of Public Works (DPW) and Water Department personnel. Offering training sessions at the event were the Michigan Occupational Safety & Health Administration (MIOSHA), FallTech, AIS Equipment Company, F.D. Lake, and Jack Doheny Companies; as well as Efficiency Production.
The twelfth annual event attracted 56 participants from 23 Michigan municipal communities and organizations. Participants were awarded 0.4 Michigan Department of Environmental Quality (MDEQ) Continuing Education Credits (CEC), which were administrated by the MRWA.
"Municipal Safety Day continues to be an exclusive format of cross-training on the safe use of municipal-specific equipment and the important principals of excavation safety that is specifically relevant to Municipal DPW personnel," says James McRay, Efficiency Production's Municipal Day Coordinator. "From safely operating a mini-backhoe to the proper installation of hydraulic vertical shores, participants at Municipal Safety Day train with equipment that is specifically relevant for them."
The morning Classroom Training Session included instruction in MIOSHA Excavation Safety Enforcement presented by the MIOSHA Training Division's Tom Hansen; and Confined Spaces training presented by Ed Fitzgerald, with Doheny Companies.
The afternoon Field Training Session featured rotating 30-minute training, on:
• Hydraulic Shores Uses & Safety, presented by Efficiency Production
• Backhoe Operator Safety, presented by AIS Equipment
• Proper Rigging Safety, presented by F.D. Lake
• Trench Shoring Installation with dry-vacuum excavation, presented by Jack Doheny Companies
• Fall Protection Equipmnt Training, presented by FallTech
For the third year, several local equipment and supply vendors set-up stations to display their municipal-specific products, including:
• AIS Construction Equipment Corp.
• Capital Equipment
• F. D. Lake
• FallTech
• Haviland Enterprises
• Jack Doheny Companies
• Precision Concrete Cutting
• Municipal Supply Co.
• Purity Gas
• Tri-County Int'l Truck Sales
Also highlighting Municipal Safety Day was a cook-out barbecue lunch, compliments of the chefs in Efficiency Production's Sales Department.
The Michigan Rural Water Association's mission is to provide resources, education, and networking to all members, future members, and their customers in order to enhance quality of services.
Efficiency Production, "America's Trench Box Builder™," is an Arcosa Shoring Products company. Efficiency provides the widest selection of standard and custom trench shielding & shoring systems. Efficiency's versatile products are designed specifically for safe and cost effective installation of utility systems and infrastructure improvements. All products are P.E. certified to meet OSHA and MIOSHA standards.
Back to News Listing